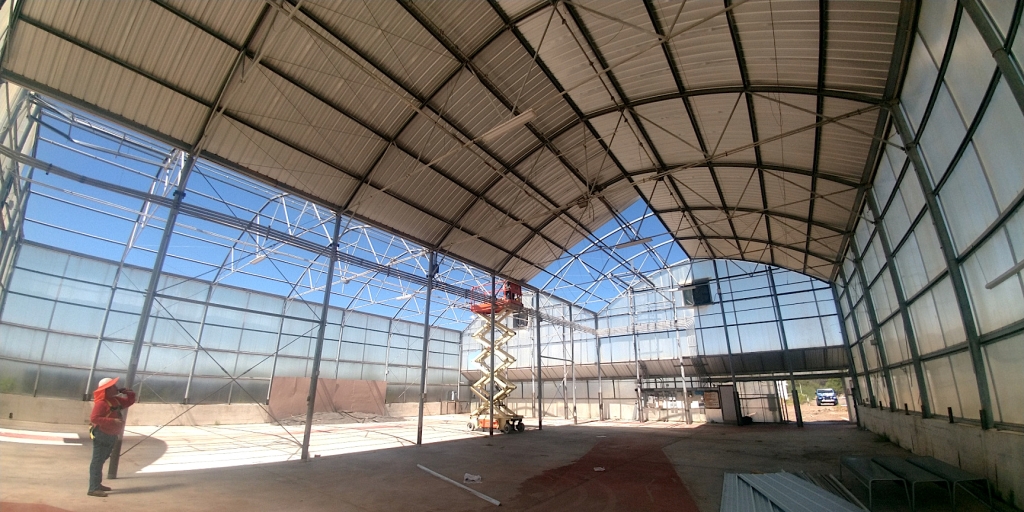 Two years ago this summer the SAM development team met via Zoom to discuss the best way forward for the Space Analog for the Moon & Mars. At that time, it had been our intent to move the Test Module, piece by piece, from its original location to the north yard of the Biosphere 2. This difficult task was, at that time, intended to give maximum exposure to SAM as it would be directly on the tourist walking path and in the shadow of Biosphere 2 proper.
However, through conversations with individuals at NASA we were reminded that for long-term missions isolation from tourists would be ideal, off the main campus with minimal disturbance. Furthermore, we could drastically reduce the cost of construction by leaving the Test Module on its original, sealed foundation. Once we changed that mindset, it opened a whole new way of embracing the project. And as is often the case, we saw what was right in front of us as something wholly beneficial with incredible potential.
When Biosphere 2 was opened in 1991, the visitor center and parking was above the Test Module. Tourists walked past the Test Module and a half acre botanical garden complete with working simulations of the biomes inside of B2. In this manner, tourists could experience some of the interior environment and learn about the analog experience without being sealed inside.
Last summer we removed five greenhouse structures to make way for our exterior Mars yard, a space that will be reconfigured for long-duration teams and for rover competitions. We retained the 6,400 square foot rain forest greenhouse with intent to replace the former plastic panel roof with corrugated, galvanized steel. In March we removed the remaining plastic panels (most had fallen to ruin after thirty plus years) along with a massive amount of aluminum framing, steel cables, and no-longer-in-use electrical components. Just two weeks ago we rented a scissor lift to complete this effort, the articulating ridge lines of each half dome removed.
When complete, the full steel roof far overhead, we will greatly reduce the thermal load on the Mars yard terrain, offer shade for crew members in already difficult to cool pressure suits, and reduce the ambient lighting to something closer to Mars than the direct, Arizona sun.
It took six months of research and negotiation to find a local company willing to work with this unusual building and within our limited budget. We are pleased to have engaged Skyland Roofing of Tucson, Arizona. The crew worked through difficult conditions, from 104F+ degrees to wind and rain, on scissor lift and cherry picker 24-40 feet off the deck. Thank you Skyland, foreman Mario, and crew Louis #1, Louis #2, Kevin, Elia, and Adrian for your services. And thank you LP Steel of Laveen, Arizona for the custom-made roofing panels delivered on time and at a reasonable price.