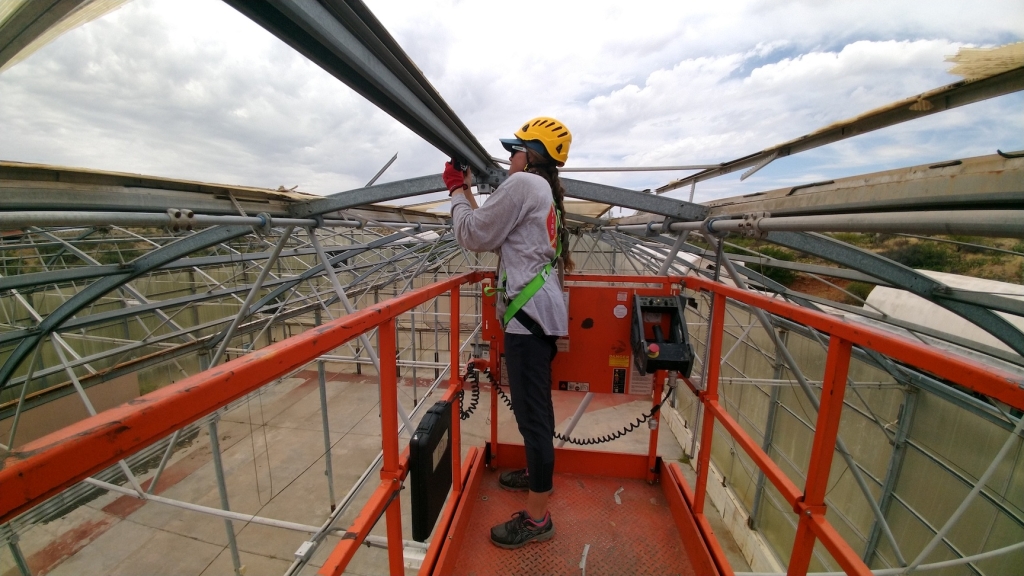 Following the Analog Astronaut Conference, the entire team took a well deserve break, a week without hammer, drill, construction adhesive, or paint in hand. Kai Staats was then in Washington D.C. to present to and participate in the National Space Society's International Space Development Conference while John Z. and Luna constructed a prototype sleeping pod.
In preparation for the installation of a new corrugated steel roof over the indoor Mars yard at SAM, Luna and Kai spent two days on a scissor lift (photo at top) removing the remaining aluminum framework that held the articulating roof panels across the two ridges. Next week the contractor arrives to install the new roof. With just three weeks remaining in construction at SAM until October, it is our intent to install insulation in the workshop (20 foot shipping container) and a mini-split air conditioning unit in the crew quarters (40 foot shipping container), and continue our work toward the hermetic seal of the expanded habitat.
Stay tuned for more!