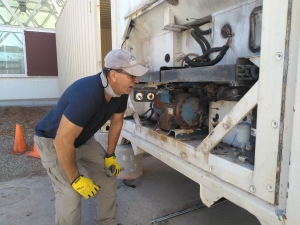 There are those projects that present a very real challenge. Shape, mass, and position fight with gravity, and even as the weakest of the forces, gravity always wins. A dozen solutions exist, yet none are straight forward. With each iteration, the solution gives birth to a problem only more complex.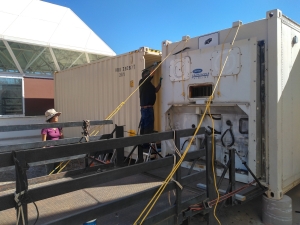 Then one person says, "I know how to get this done. I'll be right back." The rest of the team members shuffle their feet, continuing to discuss alternatives. What, exactly, is he going to do? Best guesses are made, shoulders shrug, and we wait.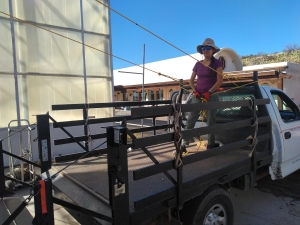 The plan is laid down. Again, we walk through the concept from start to finish. One by one, each team member contributes. It appears no one will get squished, which is good. Ideas are bounced, voices heard, and improvements are made. Confidence increases, even if some doubts remain.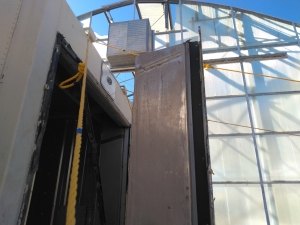 The physical implementation of the plan is invoked. A tailgate lift is placed to take the weight. Tow straps are secured. Ropes are made to function as make-shift block-n-tackle for a 2:1 increase in force; looped, tested, and tied off. Everyone is ready, ready for the plan … and if the plan doesn't go as planned.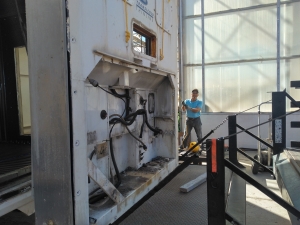 A visiting professor lends a hand at a most opportune time, with borrowed gloves and a can-do smile. In this moment the adventure in applied physics outweighs the concerns for things going wrong. We narrow the communication to specifics, gas pedal is engaged, and the massive cooling assembly at the end of the 40′ container is released from its frame.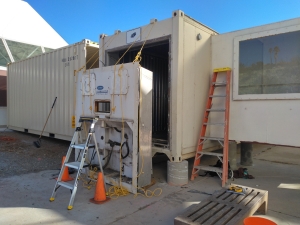 It works! Sighs of relief are audible, accompanied by nodding, and laughing, recounting the effort as though a battle had been won. Gratitude for the bold approach is shared and a conclusion expressed, "Well, sometimes, you gotta just go for it."