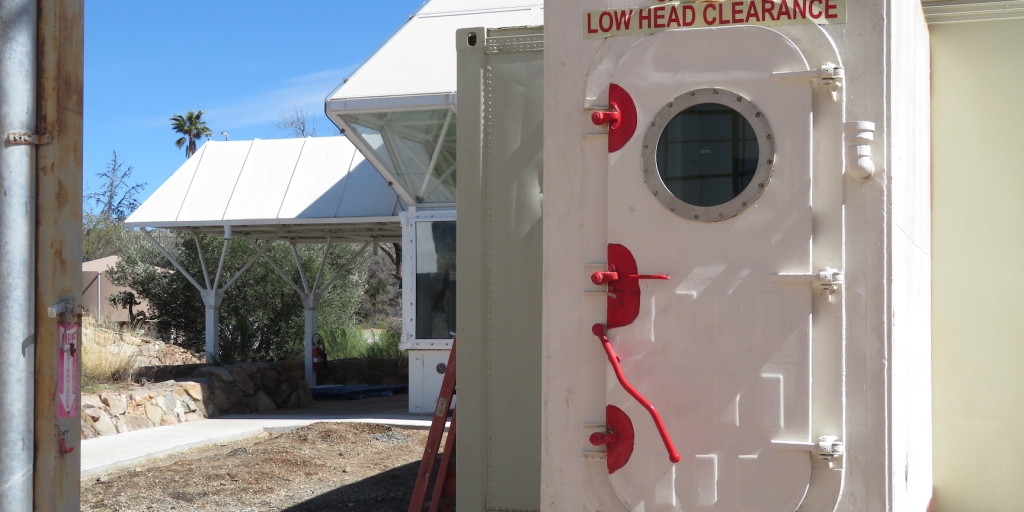 Following a year of imagination, three weeks preparation, and a beautiful snowstorm the night before, Steve, Kevin, Tim, Terry, Amin, Colleen and Kai were successful in moving the airlock from the basement of Biosphere 2 to the new concrete pads, and then securing it to the side of the future crew quarters at SAM.
As noted in prior posts (Preparation, Concrete, and Pen & Pad), this was a significant engineering effort as we worked to find a way to merge a 30 year old, steel airlock chamber with the exterior aluminum wall of a new shipping container. While the weight of the airlock is held entirely by the new concrete pedestals, we had to bring the interior frame of the airlock box into an airtight interface to the exterior wall of the shipping container. As they are dissimilar materials (steel, aluminum) welding was not an option. Furthermore, we discovered that the silicon-rubber seal held between the airlock and the bulkhead wall in the basement of Biosphere 2 was yet pliable and fully functional. We left it in place, lightly cleaning the exposed face.
With careful placement by Tim at the wheel of the rented forklift, the 3000+ lbs airlock was moved a quarter mile from Biosphere 2 to SAM, and then to within 1/16″ of our desired location, pressed against the exterior wall of the container such that the silicone-rubber was touching at the bottom and lower sides. However, we discovered that the wall of the container was not fully vertical, slanting in 1/4″ over the total 9 foot rise. Furthermore, the airlock container was not square, one of the four corners was not touching the perfectly level concrete pedestals. We cut aluminum shims to make certain all four corners are equally load bearing, and to tilt the unit backward just a bit, enabling the silicone-rubber joint to be evenly pressing against the exterior wall of the container.
Kai drilled nineteen holes through the 3.5″ assembly of aluminum skin, insulation, stainless steel interior, and the newly fabricated 1/4″ steel plate which holds the frame for the interior pressure door. Using the original bolt holes and pattern of the airlock itself, nineteen 5″ bolts work to compress the silicone-rubber seal between the shipping container and airlock frame. Next, we will shave any exposed silicone-rubber to be level with the metal edge, and then cover with the Dow-Corning 795 silicone product that has proved itself over 30 years at the Biosphere 2.
As with any project in which old and new parts are assembled, there will be surprises. But in the end, we were able to make it work perfectly.