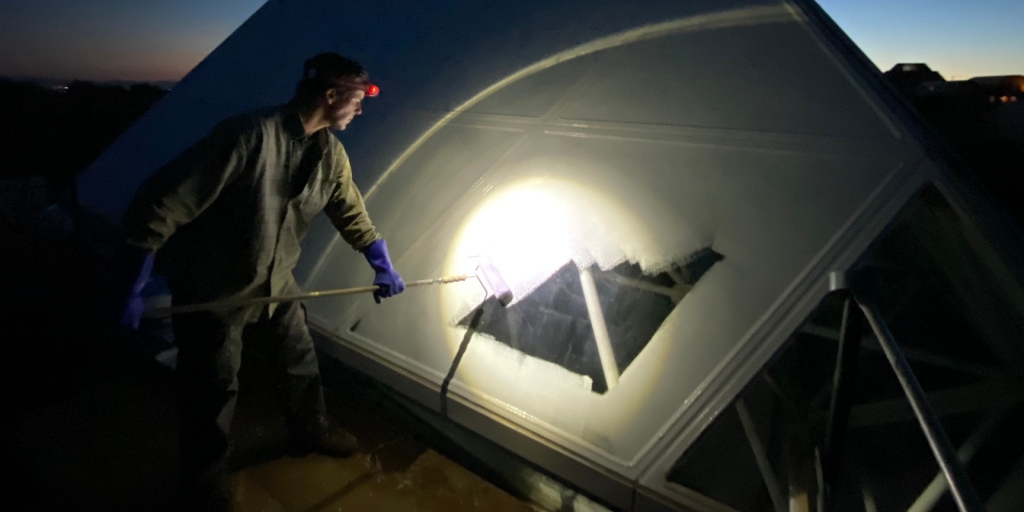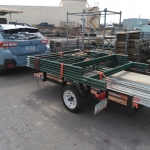 With the rather dismal failure of the cherry picker to provide an agile platform for our work on the exterior of the Test Module, we rented scaffolding instead. While a bit tricky to transport two double-stack sections on a 4×8 trailer, we managed and in fact prospered. By the end of the third day, Trent and I (Kai) could tear down and reassemble the entire rig in just under an hour!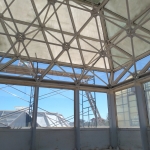 We applied two coats of a 100% silicone elastomeric to the top two rows of glass panels and the structure between. As with the top of the Test Module, this highly reflective coating helps us more closely approximate a habitat on Mars by rejecting the unwanted radiation, reducing the visible light and thermal gain, and for our terrestrial application, drastically reducing the thermal load.
With each side of the TM, West, South, East, and then North we found the interior temperature reducing, the glare diminished, and quite unexpectedly, a sense of improved space. Where we feared the elegant space frame and all-glass structure might lose its futuristic style, instead it gained comfort, now more a habitat than an industrial structure.