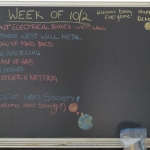 Through the intensity of a record breaking heat, Matthias, Sean, and Tasha, Mason and Natasha were steadfast in their summer-long effort in renovating the 1980s Biosphere 2 rain forest greenhouse into what will house the SAM Mars Yard and Terrain Park. When complete, the 2200 sq-ft sculpted concrete Mars crater will provide SAM crew members on EVA the physical sensation of moving over the varied terrain found on Mars, within a visually engaging representation of a crater.
The primary efforts this summer were:
Pull all existing electrical wiring.
Remove all electrical conduit that will not be used again.
Rebuild the electrical panel on the west wall.
Run all new electrical wiring, installing new circuits such that electrical sockets are readily available on all four walls and down the central support beams, with consideration for continued use of the workshop and future Mars yard where fans, lights, and cameras will be employed during crew EVAs and rover competitions.
Rebuild the entire west wall, replacing all fiberglass paneling with corrugated sheet metal siding.
Install two roll-up garage doors on the east wall of the structure.
Replace all polycarbonate panels on the east and west walls (to be completed).
As with all remodels, it always takes longer than anticipated. But if we knew how much work these endeavors would be, we'd probably never start for the overwhelming nature of what laid ahead.