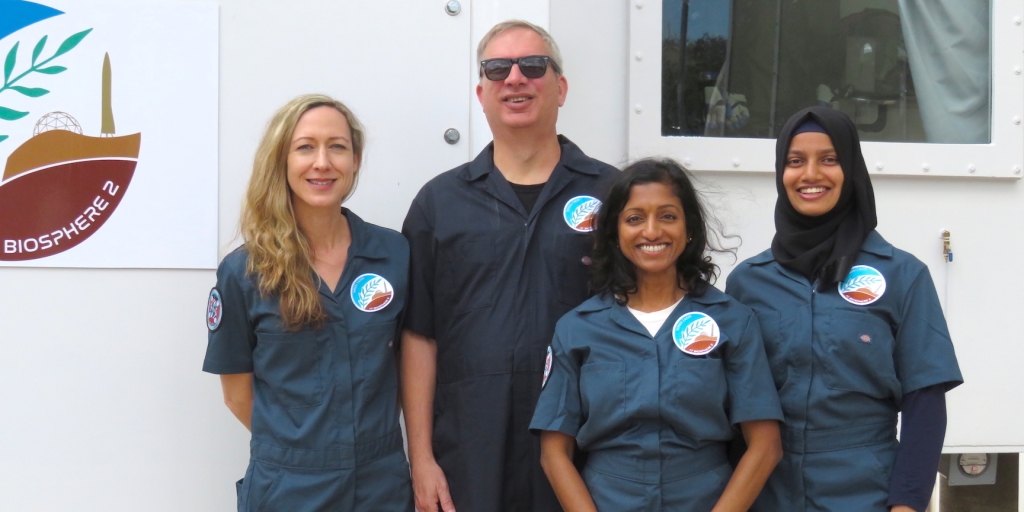 The second crew to enter the Space Analog for the Moon and Mars sealed the outer airlock hatch today, May 10, at 10:05 AM. Interviews with the French Televisions commenced at 8:30 AM and continued until 9:45 AM when one by one, Bindhu Oommen, Keridwen Cornelius, Sahda Haroon, and Andy Squires entered SAM carrying their personal bins. They left their street shoes on the airlock landing and donned hab shoes provided by Astral Designs.
Bindhu Oommen, Crew Commander and Medical Officer, MD MPH FACS is a board-certified, practicing general surgeon from Dallas, Texas, U.S.A. Keridwen Cornelius, Crew Journalist, is a freelance journalist and editor whose work has been published in Scientific American, Science, The New York Times, Sapiens, Medscape, Outside, and more. Sahda Haroon, Crew Engineer, is a freshman at Purdue University going into Aeronautical and Astronautical Engineering. Andy Squires, Crew Communications and Accessibility Officer, is a Senior Applications Administrator at American University and live in Arlington, Virginia.
The Mission Objectives for Inclusion II are as follows:
Validate and implement a working draft of Standard Operating Procedures Manual for SAM.
Document the feasibility and experiences of the early analog missions at SAM.
Create acoustic and tactile maps of SAM.
Initiate and establish a water quality monitoring protocol at SAM.
Install and evaluate the utility of a 3-D printer at SAM.
Study stress mitigation in closed environments within a pressurized and sealed environment at SAM.
Evaluate CO2 distribution within SAM during simulation.
Contribute to the feasibility of analog missions for visually-impaired crew members at SAM
Study air quality at SAM
Train non-medical persons on use of portable ultrasound for evaluation and diagnosis of medical problems.
As with the first crew, Inclusion II will be operating SAM in Mode 2 (pressurized, flow-through) for the majority of their mission, but with intervals of Mode 3 (pressurized, sealed) in order to monitor discrete rise and fall of carbon dioxide (CO2) and the overall leak rate of SAM, in this configuration. The crew will enjoy an all vegetarian diet of dehydrated and freeze-dried foods, with an exciting (from a vegetarian point of view) variety of grains and legumes, pasta, and spices, and opportunity to make home made bread.
Crew Inclusion II was sent off by Biosphere 2's Executive Director Dr. Joaquin Ruiz and original Biospherians Linda Leigh (Mission I, 1991-93) and Bernd Zabel (Mission II, 1994). Linda lived sealed inside the Test Module prototype for 21 days as part of a series of experiments to demonstrate a closed-loop bioregenerative life support system prior to building the Biosphere 2 proper. Bernd was construction manager for Biosphere 2, and continued his work at Biosphere 2 as Columbia University transitioned the facility into a climate change research center in the mid to late '90s.