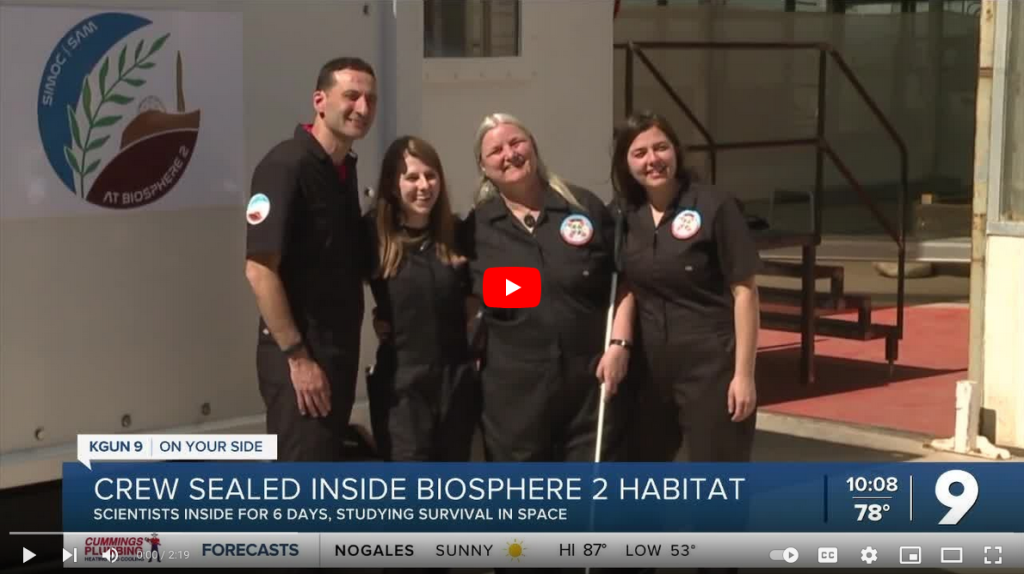 Today the very first visiting research crew entered SAM. Inclusion I was welcomed by three television crews, two radio crews, Linda Leigh of the original Biosphere 2 mission, Executive Director of Biosphere 2 Joaquin Ruiz, Deputy Director of B2 John Adams, and more than 60 persons watching the first closure of this unique hermetically sealed, pressurized habitat. Interviews commenced at 5:00 AM and continued until 10:00 AM when one by one, Cassandra Klox, Eiman Jahangir, Bailey Burns, and Sheri Wells-Jensen entered SAM carrying their personal bins. They left their street shoes on the airlock landing and donned hab shoes provided by Astral Designs.
This event follows yesterday's arduous 13+ hrs training in which the crew was given a hands-on course in the management of SAM pressure regulation, three-stage water recycling, networked fire detection and alert system, air quality monitoring, inedible food stabilization, A/C and dehumidifiers, hydroponics, and more.
Cassandra Klos, Commander and Crew Photographer, is a fine art photographer, curator, and analog astronaut. Eiman Jahangir, Medical officer, MD MPH is a Cardiologist, scuba diver, space enthusiast, and two-time NASA Astronaut Candidate finalist (2009 and 2013). Bailey Burns, Engineer, is an Aerospace Systems Engineer with Blue Origin, focusing on Environmental Control and Life Support Systems (ECLSS), lunar dust mitigation, and lunar operations. Dr. Sheri Wells-Jensen, Communications officer, Accessibility officer, is a linguist who teaches in the Linguistics/TESOL program at Bowling Green State University, Ohio.

Learn more about Inclusion I …
The Mission Objectives for Inclusion II are as follows:
Understand whether the application of adaptive techniques can mitigate physiologic impact from isolation and mission induced stress during a terrestrial space analog mission.
A study by Bailey Burns for Blue Origin (under NDA).
Monitor carbon dioxide levels in SAM.
SpaceKind Training in an Analog Environment.
Construct a New Science Fiction through Documentation of Space Simulations, Mockups, and Ephemera
Human Factors Study with University of Central Florida
Accessibility Tasks and Experiments
Inclusion I will be operating SAM in Mode 2 (pressurized, flow-through) for the entirety of their mission. The crew will enjoy an all vegetarian diet of dehydrated and freeze-dried foods, with an exciting (from a vegetarian point of view) variety of grains and legumes, pasta, and spices, and opportunity to make home made bread.
Inclusion I is an assembly of motivated individuals who share a common passion for science. We are honored to receive this first team at SAM, with anticipation for their first EVA in a pressurized space suit in our prototype Mars yard, and egress two days before the start of the Analog Astronaut Conference.