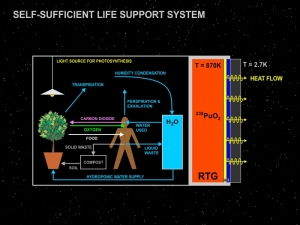 Former high school physics professor, lifelong amateur astronomer, and author of the Sky Lights, a weekly blog about things you see in the sky (and some you can't see). Dan's animated essays cover a wide range of disciplines including astronomy, meteorology, climatology, chemistry, physics, optics, earth & space science, and others.
This past two publications Dan has discussed Surviving in Space, with an emphasis on what it would take to make the International Space Station self-sustaining versus a habitat on the Moon or Mars. Dan writes, "Last week we looked at whether the ISS could be made totally self-sufficient and never require supply missions from Earth. The short answer was "yes" but the practical answer was "no". However, in a colony on a moon or planet where outside resources (like water and minerals) are available, self-sufficiency is much easier."
Surviving in Space – Part 1 and Part 2.
Enjoy!