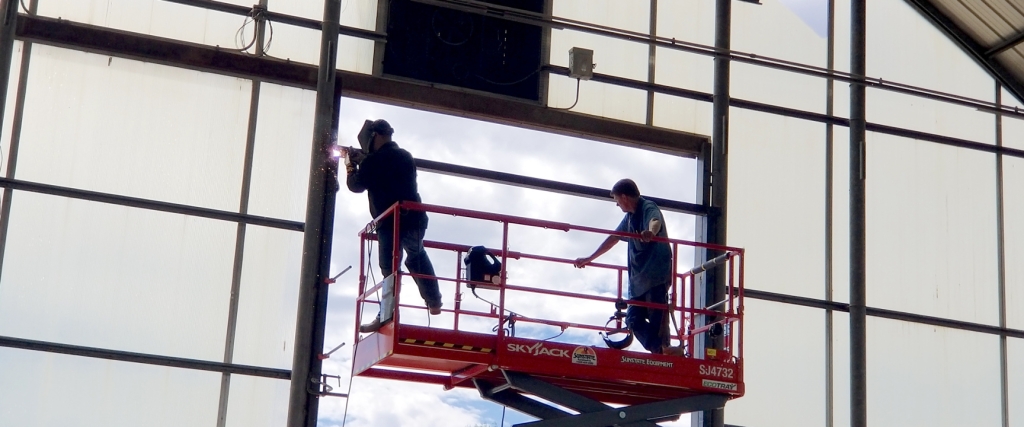 Following six months straight construction, the Analog Astronaut Conference and two sealed missions, the SAM crew took a much needed break. With the close of May, Matthias Beach, a space enthusiast with a background in the military and telco moved from volunteer to staff to head up the continued construction of the SAM Mars yard.
This 6400 square-foot facility was in the late '80s and early '90s the rain forest greenhouse for Biosphere 2. It served as a staging facility for the Landscape Evolution Observatory (LEO) more than a decade ago but has sat mostly empty since. The roof panels had fallen to ruin and were removed by Kai, Tim, Colleen, and Luna in the spring of 2022. A new roof was installed that July. In the final days before the first sealed mission at SAM, Matthias and Tasha completed the construction of a prototype Mars yard in miniature, in which both crews of four were able to explore in a pressurized suit during their respective EVAs. The Inclusion I and Inclusion II crews demonstrated the value of such a facility, even in its then simple, sandbox form.
Now, the effort is expanded to completely gut the original electrical wiring, remove all unused conduit and support structures that once gave greenhouse heaters purchase; replace the florescent lights with modern, brighter LED panels; install roll-up garage doors in each bay, and by the close of the year, install a massive sculpted, hand-painted, synthetic rock Mars crater!
Matthias Beach and Sean Gellenbeck have taken on this arduous task in the peak heat of the Arizona summer, having to remove a small army of skeletons (literally) while fighting a never ending battle with very aggressive wasps (sometimes the wasps win; sometimes the humans). The past six weeks are captured, in brief, in these twenty photos.