Q: What do Captain Jack Sparrow, the Mandalorian, and SAM have in common?
A: Christopher Leps, Hollywood stuntman, coordinator, and filmmaker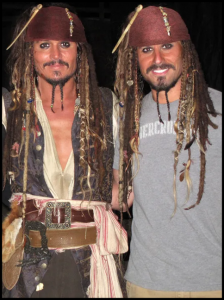 I am honored to officially introduce Christoper Leps to this growing team of human space exploration enthusiasts and professional educators. I have had the pleasure of knowing Chris for more than a decade since one of his short films won an award at the Almost Famous Film Festival. Chris ventured from Hollywood to Phoenix for the public screening, and we have threatened to work together ever since.
Most of us assume stunt people are dare devils who do not fear pain, broken limbs, or worse. Yet those who double for the actors are focused on safety first, and understand the physics of two or more bodies in motion at a visceral level.
This is why I have asked Chris to help us design and build a gravity off-set rig for the SAM Mars yard. This three axis track 'n crane will enable visitors to SAM to experience reduced weight while encumbered by their pressure suit. In addition, we envision a series of classes for school-age students who desire to learn more about human space exploration and perhaps becoming an astronaut. The result will be a breathtaking, memorable experience for learners of all ages.
In February Chris and Trent began research into the history of gravity off-set rigs as used in training the Apollo astronauts.
NASA reduced gravity walking simulator:
https://mashable.com/2015/07/29/astronaut-training/
NASA ARGOS:
https://ntts-prod.s3.amazonaws.com/t2p/prod/t2media/tops/pdf/MSC-TOPS-60.pdf
Active Response Gravity Offload System
https://www.nasa.gov/centers/johnson/engineering/integrated_environments/active_response_gravity/
Once primary construction of SAM is complete, we will bring Chris to Biosphere 2 and dive further into the design. Perhaps with a reduction in COVID restraints ahead, we can engage Chris in a seminar at the UA campus or B2 about his career in getting punched, kicked, stabbed, shot, and blown up as a function of applied physics, safety rigging, and movie making.
Chris' career began with the Teenage Mutant Ninja Turtles at Disney (Which one were you Chris? 🙂 and has culminated as a top-tier Hollywood stuntman, coordinator, and independent filmmaker with current work on the renowned Star Wars Mandalorian series.
Chris' stunt reels are incredible to watch!
https://vimeo.com/506912784/b3fab11604
'A Pirate's Life For Me' is a tribute to how Chris' career has been shaped by unique opportunities: https://vimeo.com/351525772
Welcome Chris! We hope that with SAM we can take you beyond pirates and storm troopers to the red planet Mars where the greatest danger is yet more isolation in a sealed habitat!
Cheers,
kai